Shreve Land has built in 15 states during the past 50 years, accounting for 19,500 places that individuals and families have called home and 18.9 million square feet of space that individuals have worked, learned, worshiped, played and grown in. To honor that accomplishment, Shreve Land celebrated by giving back to the community that is home to the organization's headquarters and founders.
Shreve Land choose a project that would impact a local need. Partnering with United Way and SPAR (Shreveport Public Assembly and Recreation), Shreve Land employees built a learning trail that's designed to help adults interact with children to boost language and literacy development. In the local 10 parishes, "52 percent of children enter kindergarten unprepared," according to United Way of Northwest Louisiana.
"As Shreve Land Constructors, LLC celebrates 50 years of uncompromising commitment to quality in the construction industry, we knew there was no better way to celebrate then by giving back to the community that our organization originates from," said Carl Bantle, President of Shreve Land Constructors, LLC. "We value education and the young people who will be the future leaders of our community. By partnering with United Way and SPAR, we are able to celebrate through building an educational experience for the upcoming generation."
Throughout the course of the year, Shreve Land has had a theme to commemorate its anniversary of "Build 50 More." Shreve Land celebrates the past by looking to the future generations. "As builders, we enjoy building projects that have lasting value for the years to come," said Clay Mitchell, Chief Operations Officer of Shreve Land Constructors, LLC. "We celebrate the past 50 years by looking forward. The Born Learning Trail gives value in education and promotes exercise for the community for many years to come."
As 2018 approaches Shreve Land will not forget the rich history that it has come from and looks forward to building the next 50 years.
AB Palmer Kid Camps say "thank you" to United Way and Shreve Land Constructors, LLC!
Pictured (left to right): Baronette Robinson, A.B. Palmer Center Manager; Bruce Wilson, United Way President/CEO; Ollie Tyler, Shreveport Mayor; Shelly Ragle, Director of SPAR; Carl Bantle, Shreve Land President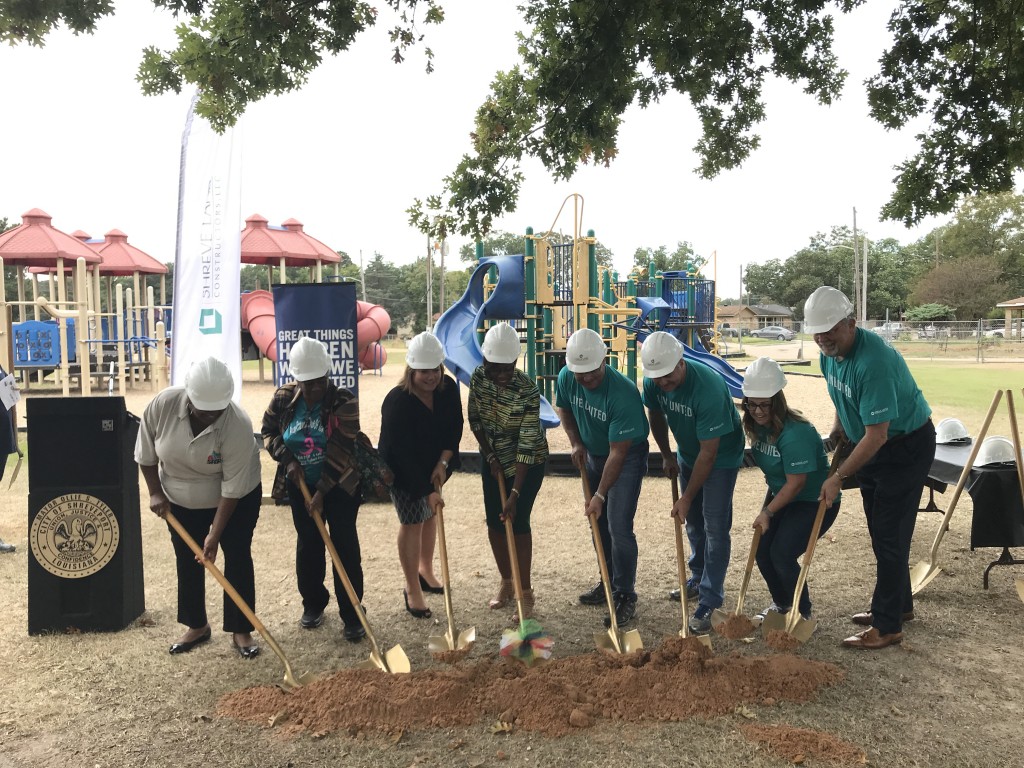 Ground breaking ceremony by honorable guests.